ISO 21001 Training Sessions for Quality Management Educational/Training ISO Standards & ISO 9001: Courses & Certificates from Austria
Are you interested in further education or consultancy on Quality Management Systeme for Educational Organizations?
ISO 21001 Training
Our ISO 21001 training appeals to all learning styles, enhances the delegates' learning experience, and achieves a better understanding at the end of the course.
The ISO 21001 training enables you to develop the necessary competencies to support an educational organization in planning, implementing, managing, and maintaining a management system for educational organizations (EOMS) based on the requirements of ISO 21001. During ISO 21001 training, you will explore the different components of an EOMS, including the EOMS policy and objectives, procedures, performance evaluation, management commitment, internal audit, management review, and continual improvement.
Learning objectives ISO 21001 training
Understand the fundamental concepts and principles for an EOMS, as defined by ISO 21001

Understand the elements and operations of an Educational Organizations Management System and their principal processes

Recognize the correlation between ISO 21001, ISO 9001, and other standards and regulatory frameworks

Understand the approaches, methods, and techniques used for the implementation and management of an EOMS based on ISO 21001
All the answers to these questions and more can be found in our package:
"education standards"
How do I get started with the ISO 21001 Training?
If you are ready to start your journey towards obtaining ISO 21001 training for certification, our team is more than willing to assist you in becoming part of our global network
Registration
5 Workshop sessions
Documentation (Standard texts, plus samples, etc.)
Special WhatsApp group to be connected with the group members and the Coach.
Certificate issuing fees
Yearly registration fees for the 1st year
The online certification interview as a freelancer (1-2 hours)
Refund conditions: Please note that directly after successful payment, we reserve your seat and forward the fees to the certification body. For both reasons, those fees are logistically non-refundable. In case of any personal circumstances, you can ask for a replacement for a new upcoming session.
Please contact [email protected]
Thank you for your understanding.
ISO Training Services (

ISO 29991:2014 / ISO 29993:2017 / ISO 29994:2017 / ISO 21001:2018

)
You define the needs for action and the implementation of the specific QM, and Educational/Training ISO Standard(s),
We deliver specialized Training Sessions which are Ideal for quality assistants, quality officers, quality managers, internal auditors, external auditors, top managers, company owners, project managers, and entrepreneurs.
Quality Management Educational/Training ISO Standards & ISO 9001: Courses & Certificates from Austria
Are you interested in further education or consultancy on quality management ISO 9001 and/or Educational/Training ISO Standards?
Today, quality management is indispensable neither for production nor service provision. Systematic quality management creates a positive attribute for the shoppers and confidence in the expected quality of your merchandise and services. Therefore, quality management not solely helps you to cut back prices and avoid supererogatory prices but is additionally a vital argument in selling.
In-house Training / Internal Training
We design training for your specific Educational/Training-Needs, for instance in case you are preparing for an ISO Certification. We involve using the company's own expertise and resources. It's highly specific and geared toward employees learning the ropes of your business. We conduct the training virtually, at your location, or at an outside venue.
Quality Management training & courses at your location can also be booked for in-house sessions. This variant is available if you would like to have several employees undergo a seminar at the same time. The advantage of this model is that we come to you in the company and respond to your company-specific problems. Likewise, as a company, you save costs that you normally incurred for expenses and overnight stays of your employees at the seminar location
We also offer these sessions:
Exclusively for your company
Absolutely practical workshops – tailored to your need
Flexible in terms of time, location, and content
We provide our Educational/Training specialized training programs to companies interested in improving performance, minimizing risks, and avoiding the costly consequences of poor quality. We mainly focus on quality systems training combined with Educational/Training-specific criteria, but we also offer customized training solutions for a variety of compliance and improvement approaches based on the different QMS standards and the specific Educational/Training ISO standards. Just ask for a meeting. Free of charge.
Benefits of Inhouse-Training
Thankfully, there are many advantages of In-House Training whatever the scope or size of your organization, these include:
Offers better value for money than outsourcing training

Ability to customize training to the exact company needs.

For instance, design and deliver a management training program

House Training is more flexible in terms of scheduling

Travel and subsidiary cost savings for employees

Ability to adapt training during delivery if needed

The company will develop its own tools which can also be commercialized

Improves internal communication within the organization

Fosters team building and better working relationships
Tips for Effective In-house Training
Ensure that senior management firstly endorses the program

Set training objectives that are specific and measurable

Involve employees in the development of the training

Keep the training aims realistic and achievable




Ensure that training is in line with wider business development plans

Carefully select or recruit your trainer or training team

Evaluate the process and outcomes of any training delivered

Use in-house training evaluation forms

Pilot new training programs with small groups first

Use a range of training tools including online and offline

Develop training materials on an ongoing basis

Check the internet for free resources and suitable training tools

Ensure that the budget available matches up with the training delivery needs

Aim to keep training blocks between one and two hours

Provide rest breaks and refreshments for trainees where needed
HURRY!
Hurry! Register Before Spots Fills Up!
Book A Free ISO Strategic Meeting - Education/Learning Services
The Zoom meetings are intended only for Organizations, NOT for Freelancers
JOIN US FOR THIS RARE OPPORTUNITY Meet Your Senior Lead Auditor
Top Skills
Quality & Risk Management,
Intercultural Skills,
Management Consulting
Master in Translation Studies
Master in Interpretation
Languages
English, Arabic, German
for further information
Honors-Awards
- Austrian State Award
- International German Award, Berlin - Germany
- SABRE International Award (PR Oscar)
-Best Practice Award, Vienna-Austria
-Top Expert 2021 in Quality Management (Erfolg 2021)
Publications
20 books (on Amazon) on Business Administration, Quality Management.
The most important literature on the platform AMAZON
The 250-page practical book includes

Text and analysis of the international standard

The required documents and procedures forms

To complete the accreditation process
DR. MOHAMED-ALI IBRAHIM
Director of "International Education Certification System", based in Vienna - Austria
Senior Lead Auditor for the following ISO Standards in the Education:


ISO 29991:2014 / ISO 29993:2017 / ISO 29994:2017 / ISO 21001:2018.

ISO 9001:2015: Quality Management Systems, the International PR Standard CMS
ISO HR Standards: ISO 10667-1:2020 / ISO 10667-2:2020 / ISO 24179:2020 / ISO 30401:2018 / ISO 30405:2016 / ISO 30406:2017 / ISO 30407:2017 / ISO 30408:2016 / ISO 30409:2016 / ISO 30410:2018 / ISO 30411:2018 / ISO 30414:2018 / 30423:2021.
Plus the following 10 further ISO Standards in the Translation/Localization/MPE industry: ( ISO 21989, ISO 20228, ISO 2603, ISO 24019, ISO 18841, ISO 21720, ISO 20771, ISO 22259, ISO 11669, ISO 23155).

A former member of the Standards Expert Committee at the Quality Authority.

A former member of the Standards Expert Committee at the International Austrian Standard Institution.

Dr. Ibrahim has conducted +750 different Quality Audits (Pre-Audits, Initial Audits, Surveillance Audits, and Recertification Audits) all over the world.

Key-note speaker at the international sector conferences

Trainer, Coach, Consultant, and Lead Auditor since 1998

Ph.D. in Quality & Risk Management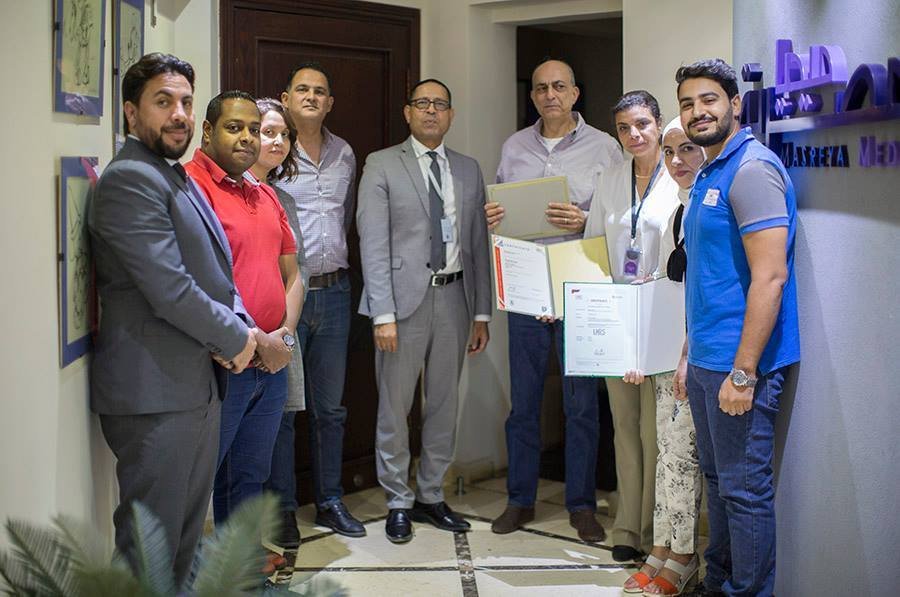 TESTIMONIALS

By mere coincidence four years ago, I was lucky to know Dr. Ibrahim. In the beginning, as always, the case for unknown areas, I was skeptical about ISO, certifications, and standards. In our first meeting, Dr. Ibrahim provides a professional short summary of ISO certification, and we agreed to proceed to the next steps. We walked the steps together, preparing the certification manual, building the system, and educating all involved parties (stakeholders) on the standard translation process. However, unfortunately, we couldn't have the certification from the first initial audit, for some defaults in our system, however, under the guidance, patience, and support of Dr. Ibrahim, we were able, after three months from the date of the first audit, to achieve the certification. It was a very special deep-dive experience resulting in endless opportunities in business development, a developed mindset towards business, and quality perspectives, on the corporate and personal levels, for me as the company owner. Later to this experience, and fortunately, I had the honor to participate with Dr. Ibrahim through several conferences, workshops, meetings, and subsequent surveillance audits addressing the ISO certification. Through a very close dealing with Dr. Ibrahim, I knew him as professional, tactful, highly committed, fulfilling his promises, supportive, enthusiastic, optimistic, and always inspiring all people around him towards success and excellence. Throughout years of experience with Dr. Ibrahim, I believe he is a true influencer for whoever seeking excellence, success, professionalism, an updated business mindset, or has an entrepreneurial spirit on all levels, either corporate or personal. With all my best wishes and due respect,
Ahmad Mutamad
CEO at TRANSTEC LocalizationJune 24

We had a very positive experience with you, First, you helped us well understand the basic meanings of the various terms that are used in the translation world, then you helped us implement the requirements of the ISO 17100, and finally, you always had ideas to improve. Thank you for your kind and professional cooperation for all these 5 years.
Mostafa Saeednejad
CEO TransNet Iran

I rarely come across real talents who stand out like Dr. Mohamed-Ali Ibrahim. I worked with Dr. Mohamed-Ali Ibrahim for three years, collaborating on several project teams. Dr. Mohamed-Ali Ibrahim's ability to handle multiple projects was unlike any I've seen before and dramatically increased our company's productivity. No matter how tense a meeting, Dr. Mohamed-Ali Ibrahim made sure everyone left with a smile. As a leader, Dr. Mohamed-Ali Ibrahim earns my highest recommendation.
Mr.Saadi Djeffal
CEO chez KOST GROUP
Dear Dr Mohamed,
Hope this email finds you well and safe. It is an honour to write such a testimonial, Dr Please find below a few humble words that would never reflect your real value. 😃
Testimonial:
"I was first introduced to the subject of ISO 17100:2015 certification, almost 2 years ago. Given the complex scope and extensive logistics of the certification requirements, I thought it would take me ages to obtain it. However, when I got serious about pursuing all steps and requirements, I started with attending orientation sessions and online introductions conducted by Ph. Dr. Mohamed-Ali Ibrahim, ISO Senior Lead Auditor, Representative of MENA Region, and a remarkable expert in this field. He worked with me step by step to make the process as easy as possible, explaining how to build my professional qualifying handbook that reflects my 20+ years of expertise, how to conform with every single detail within the ISO 17100 standards following the structured processes. About Dr. Ibrahim's supportive and exceptional guidance, he added more value at every stage I have been accomplishing to fulfill the requirements, providing me with key resources. He also helped me identify new methodologies to incorporate in my current processes, with a focus on business improvements.
PhD Mohamed-Ali Ibrahim is a very professional, knowledgeable and easy expert to work with. His words of encouragement and inspiring approach made me feel more willing to deep dive for translation industry new technologies that were even emerging during my certification stage. dr Ibrahim drove me through the limitless boundaries of inspiration and non-stop learning.
I encourage all translators around the region to take this significant step towards a professionally recognized path. Acquiring ISO 17100:2015 demonstrates your commitment to meeting client/business needs by delivering best practice translation services, which can lead to higher profits and distinguished recognition. Applying such flawless process, translation management system is now stronger, easy to track, review, evaluate and come out with a reliable and consistent service.
I would like to thank you Dr. Mohamed-Ali Ibrahim for your professionalism both prior and during my recent certification process. It has been a great honor working with you. I appreciate all your efforts. I am looking forward to the surveillance audit next October ISA."
Best regards,
Abir Zidan
Free-Lance USAID ISO 17100 Certified Translator & APTN-Certified Translator
Dear Dr. Mohamed Ali Ibrahim,
I am writing this letter to you to sincerely thank you for the great efforts you have exerted with our office over the last 12 years to help us upgrade the quality of our translation services to have equal footing with the superior translation offices that you audit over the world.
No words can express our gratitude for your generous and continuous support.
We highly recommend you to any translator wishing to make use of such a great and unique expertise in the field of ISO certification.
If any of your potential candidates desire to know more information from our site, please ask them not to hesitate to contact us or visit our website: www.mitsco.org
Dr.Mohamed Bakr
General Manager Mitsco Translation & Training

Besten Dank für ihre professionelle Begleitung unseres Qualitätssystems! Das angenehme Klima und ihr tiefgreifendes Verständnis unserer Abläufe, sowie ihre Unterstützung bei der Umsetzung unserer Maßnahmen haben unsere Entwicklung beflügelt!
Nochmals besten Dank für die objektive Behandlung beim Audit!
Christian Bucher Mag
Managing Director, Staff 24

My first encounter with Dr. Mohamad Ali Ibrahim was in 2008 when I embarked on obtaining my EN-15038 certification. From the first moment, I realized how professional Dr. Mohamad is, as he knows the whereabouts of the translation business well.
Until this very day, Dr. Mohamad Ali Ibrahim was a man of his words, always keeping sharp appointments for the Audits he conducted.
Dr. Mohamad Ali Ibrahim and I took part in many events where we both delivered our expertise and knowledge about the ISO 17100 certification.
Dr. Mohamad Ali Ibrahim never tolerates any shortcomings or pitfalls on the people he does Audits for, but he is also very supportive and collaborative.
The advice I have received throughout my entire acquaintance period with Dr. Mohamad Ali Ibrahim greatly impacted my business as a professional freelance translator.
Dr. Mohamad Ali Ibrahim always comes with brilliant ideas and I consider him one of the industry visionaries.
ما هو أعلاه لا يفيك حقك دكتور محمد بكل تأكيد
أخوك الأصغر سامح رجب
Sameh Ragab
ISO 17100 Lead Auditor and Certified Translation Provider UN and Worldbank Registered Translation Vendor

I had the pleasure and honor of meeting Dr. Mohamed-Ali Ibrahim during the first week of September 2018, when I was assigned by our Leadership to support our Translation Branch Manager and Deputy Translation Manager of the largest Translation Section at Vinnell Arabia in Riyadh, Kingdom of Saudi Arabia.
By this time, Dr. Mohamed Ibrahim had been working with our Translation Branch Deputy Manager on ISO 17100 over a period of 8 months impressing her of the competitive advantage that ISO 17100 Certification provides to our business. At the end of this period, our Translation Branch Deputy Manager understood clearly the significant business value the ISO Certification would bring to our Translation Branch. She also gained a major appreciation of effective business processes structure the ISO 17100 Standard deployment would add to our Translation Branchland she decided to pursue the ISO Certification. As a result, she requested my support management since I had the responsibility for all Quality Management Systems deployments at Vinnell Arabia.
When I started working with Dr. Mohamed Ibrahim, I was very surprised, impressed, and very pleased immediately to learn of his exceptional Translation Services experience, knowledge, and qualification considering the extensive ISO 17100 Certifications he deployed successfully for over 200 Companies Globally, conducting +500 different Certification/Recertification/Surveillance Audits.
We immediately decided to contract Dr. Mohamed-Ali Ibrahim for helping us deploy both ISO 17100 Translation Services and ISO 9001 Quality Management at our Translation Branch. He executed successfully ISO 17100 Lead Auditor and ISO 9001:2015 Quality Representative Certification Trainings, followed by a competency ISO 17100 Specialized Translation Service Certification for a select number of our key Translators and Proofreads quickly building the ISO technical knowledge of our Translation Department Team.
With Dr. Mohamed's outstanding guidance and support, we successfully accomplished over the past 3 years ISO 17100 Translation Services and ISO 9001 Quality Management Certification of 2 of our key 4 Translation Sections making us accomplish very significant milestones in our Translation Branch history.
We cannot speak enough of our appreciation of Dr. Mohamed's professionalism and exceptional ISO 17100 and ISO 9001 technical knowledge and guidance coupled with the ardent desire to transfer significant Translation Industry knowledge to his Customers due to his very strong Subject Matter Expertise(SME) in this field and his belief in making his Customers the very best business in their market, while at the same time being a very tough and strict IQC Austria ISO 17100 and ISO 9001 Lead Auditor during his Customers site Certification and Surveillance Audits.
We highly commend him for his excellent services and recommend him highly based on the excellent and positive experience we had with him in our Organization.
Hassan Farah
Mission Assurance Director Northrop Grumman Vinnell Arabia Subsidiary, Kingdom of Saudi-Arabia.

I was honored to work with the Senior Lead Auditor Dr. Ibrahim, one of the most respected experts in the localization and language services industry.
One of his most important goals is to spread quality standards and encourage others to adhere to them as well as to develop their workflow to meet the international quality standards.
The certification process with Dr. Ibrahim helped us in STAR Middle East to improve our way of thinking, processes, and tools to obtain customer satisfaction.
In STAR Middle East, Dr. Ibrahim helped our team to improve their quality and workflow. His advice and recommendations helped us a lot in upgrading our workflow and ensuring the highest level of quality.
Dr. Ibrahim explained to us how to fulfill the requirements of the ISO standard and the certification process. He encouraged our team to work in accordance with international quality standards. I highly recommend other translation companies to work with him because he handled and managed his duties and given promises in a professional way.
Wael Elemam
Business Development Manager, STAR Middle East

Dear Professor
Dr. Ibrahim
I hope you are in the best of health.
 Thank you very much for your visit to our company and your support for it through your kind recommendation to support the continuation of granting us the ISO certificates ISO 17100 & ISO 18587, which are a badge on our chest and an incentive for us to continue the development efforts that we started with you as soon as we were granted this global appreciation.
 As we declare our desire to you, we renew our pledge to continue working on developing and modernizing everything related to our company in terms of science and theoretical and technical knowledge to reach the highest levels that companies operating in this field aspire to.
 Once again, we thank you for your generous willingness to support us in everything related to the development of our company at all levels.
 Yours sincerely.
 Mamdouh Askar
CEO – Star Middle East, Cairo – Egypt

Dear Dr. Mohamed-Ali IBRAHIM,
Initially, I would like to express my deepest gratitude for your onsite visit to our company. We are very pleased and proud of the audit results.
We enjoyed working with you and want to thank you for your professional and companionable nature as you conducted our audit. All the staff at Language Empire, had very positive things to say and enjoyed discussing with you how they contribute to their work. We appreciate your knowledge and expertise of ISO and look forward to implementing your suggestions in order to improve our Quality Control system. We were very pleased with the audit method and look forward to working with you in the future. I assure you that we will keep the hard work up to implement all expected recommendations.
Kindest regards,
Jaber Abd Alkhaliq
Linguist Relations Manager Language Empire Ltd